So excited, everyone!
The BeyondCP Public Beta Test will begin tomorrow, March 1st! I'm stoked to have fun on the CPPS! It'll be so fun, I can't wait! And then on the 5th the Community Center and Cul-de-sac finish construction, and on the 8th a puffle party! This is awesome! Can we adopt puffles on the CPPS? If so, would a rainbow puffle be released? Anyways, the map is pretty cool, I love everything so far!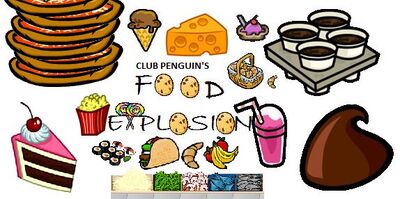 I made a basic food explosion logo, with food on it. If the text was better and bigger and the pictures less blurry, and the background was transparent, it would look good, but since I can't do that, it's not. Anyways again, good luck everyone at the beta test!
Ad blocker interference detected!
Wikia is a free-to-use site that makes money from advertising. We have a modified experience for viewers using ad blockers

Wikia is not accessible if you've made further modifications. Remove the custom ad blocker rule(s) and the page will load as expected.